Good farming, good formulas, and good flowers. 
Our products are handmade, low-waste, and abundant in active botanicals that are homegrown or consciously-sourced. 
Every GFF formula is flower-forward to keep you feeling radiant from the outside in.
Good Flower Farm is a small, woman-owned organically-operated body care brand located in Bayfield, Wisconsin with a production space & retail location along the shores of Lake Superior. We mindfully craft high-quality skincare products from herbs grown by the same hands that make our products.

We aspire to be at the intersection of luxury and sustainability, harnessing the power of plants to create skincare that works without compromise. 

From herbal salves to nourishing facial care to organic deodorant, we make every product with love and care using the most sustainable practices possible, with the best, most vibrant ingredients we can source.

1% of all sales go to environmental organizations through our partnership with 1% for the Planet. We are also certified cruelty-free through Leaping Bunny.
Our Sustainability Commitment
What we don't grow ourselves, we source as mindfully as possible.
Some highlights are our organic hydrosols used in our toners are sourced from a US-based collective of small-scale organic farmers; while our beeswax used in our salves & lip balms comes from a family-run bee farm local to us in northern Illinois.
Nearly all of our ingredients are certified organic, which means they have been grown/raised without the use of synthetic chemicals.
We source from ethical, environmentally-conscious suppliers and companies with high-integrity and a commitment to quality and transparency.
Our skincare packaging is primarily reusable & recyclable glass, biodegradable paper, and infinitely recyclable metal. We do our best to minimize plastic as much as possible. Most containers are recyclable and can also be reused by our consumers in creative ways.
In 2020, we fully replaced plastic-heavy lip balm, salve, and deodorant tubes with eco-friendly plastic-free biodegradable paperboard tubes.
In 2022, we replaced our previously plastic cream and face mask lids with more environmentally-friendly metal lids. We also replaced our toner, serum, and body oil pumps with lower-plastic ones made of primarily metal.
Our order packing & shipping system is plastic-free.
We wrap all products in recycled & recyclable Kraft paper and ship in recyclable cardboard boxes.
We use plastic-free water-activated paper shipping tape, as opposed to the common plastic shipping tape. This is not only a positive environmental choice on the front-end, but it makes recycling easier on the backend. It can be recycled with our cardboard boxes as opposed to needing to be removed parior to recycling.
We use paper shipping labels with adhesive backing vs. plastic tape.
We deliver orders to the post office typically by foot (it's just 0.1 miles away!), saving gas and thus reducing our environmental footprint.
We strive to reduce our waste as much as possible. What this looks like:
Minimizing use of plastic - in our packaging, production process, & shipping.
Containers made from glass and biodegradable cardboard.
Reusable, durable utensils & tools for formulating products.
Plastic-free shipping tape.
We partner with Terracycle's Zero Waste Box™ and offer a recycling drop-off for typically difficult to recycle household goods & beauty care packaging in our local community.
Mindful reuse & recycling:
You've probably heard of the "3 Rs" - "Reduce, Reuse, Recycle." We do our best to take things a couple steps further by rethinking, reimagining, and repurposing before we get to the other three. Of course, when we aren't able to reuse or repurpose, we recycle everything that's recyclable.
We partner with Terracycle to recycle all of our packaging, including typically hard-to-recycle plastic lids, pumps, and sprayers.
More details here.
Our Certifications
1% for the Planet

In 2020, we partnered with 1% for the Planet, joining other brands like Patagonia, Klean Kanteen, and Honest Tea to donate 1% of our revenue to environmental causes. Surprisingly, only 3% of philanthropy goes to environmental causes, of which only 5% comes from corporations.

We are part of 1% for the Planet to change these numbers and give back to the earth that gives us life and provides the plants we use in our skincare formulations.

Leaping Bunny

In 2022, we became Leaping Bunny Certified, to make what we've been doing all along - since we launched in 2014 - official. We do not participate in animal testing.

Our suppliers are all verified to have not tested any of the ingredients we source on animals, and we as a brand that both formulates & tests new products and makes all of our products in-house also do not participate in any form of animal testing.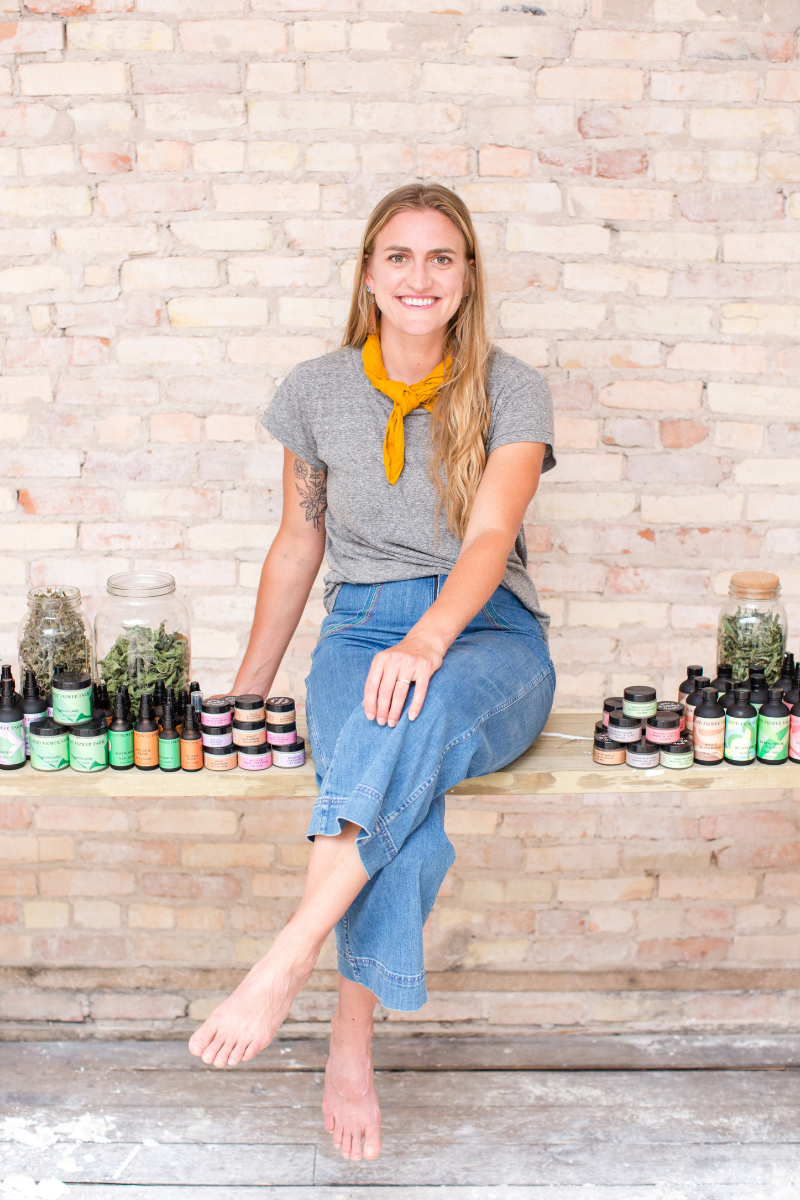 Meet our Founder
Rachel Carpenter is an herbalist, formulator, farmer/gardener, educator, writer, and the founder of Good Flower Farm. She became interested in holistic living more than a 15 years ago when a visit from Jane Goodall to her university reshaped her trajectory. Dr. Goodall shared words Rachel has spent the better part of the last 15 years doing her best to embody: "Every individual matters. Every individual has a role to play. Every individual makes a difference."
Rachel's passion & love for the earth had always been there, but this and other subsequent experienced rooted her path of environmentalism. She has been on a journey to pursue & understand this connection through years of work on organic farms, teaching environmental & sustainability education at the middle & high school level, studying herbalism & nutrition, and now growing, her herbal skincare brand.
She started Good Flower Farm (as Original Organics Herbals) in 2014 out of an apartment in Minneapolis. Years later, she set roots on her first farm property just outside her hometown of Nashville, where she tended a farm organically with her husband for five years, from 2017-2022.
She relocated the business and farm to a small town on the shores of Lake Superior. Wisconsin is also where she spent her most formative years learning & teaching environmental sustainability and farming. Here she tends a smaller backyard microfarm, much more suited to the intensive, small-scale herb-growing needed for Good Flower Farm formulations. She also opened GFF's flagship retail location in the summer of 2022. Late 2023 brings the opening of Field Day, a sister store in Bayfield that will carry bulk refills & eco wellness goods.
We believe in the power of good.